$328.00
Ignore/Bandpass/Analyze Powerlines
3-Axis EMF meter can IGNORE, BANDPASS and ANALYZE 50/60Hz powerline fields
In stock
Description
DSP-523 Gaussmeter Overview ▼
The DSP-523 uses a powerful digital signal processor that sets a new standard for AC gaussmeters. Now you can ignore powerlines, bandpass powerlines and analyze powerline harmonics, all with one simple meter.
The first line shows you the total, unfiltered field strength. The second line shows the field strength with one of four digital filters selected:
Ignore 60Hz + Harmonics
Ignore 60Hz Only
Bandpass 60Hz + Harmonics
Bandpass 60Hz Only
Selectable axis, graphing, max hold, and a variable backlight are just icing on the cake.
No other gaussmeter has the ability to accurately notch or bandpass powerline fields and harmonics while still passing other frequencies. Easy to use, and innovative.
50 Hz European Fields
Need to use the meter in Europe where power line are 50Hz instead of 60Hz? No problem, you can switch between 50Hz and 60Hz filtering in the menu. Simple.
BARGRAPH DISPLAY:
Applications:
Make sure your home's EMF levels are safe
Powerline Field Measurements
Powerline Quality and Total Harmonic Distortion (THD) analysis
Measurement of DC or combustion motor electromagnetic fields
Measure hybrid car electromagnetic radiation
Appliance Measurements
Lab Testing & Calibration
Testing notch/noise filters
Ignore Powerlines ▼
Completely Ignore Powerlines

Let's say you want to measure the fields generated by a combustion or DC motor such as the fields inside your car.  These fields aren't at powerline frequencies, but in the electrically dense environment we live in today, a regular gaussmeter's readings will be distorted by surrounding powerline fields.  How would you measure the 80Hz refresh rate from an LCD monitor?  What about paranormal research, where you're looking for EMF anomalies but want to be sure you're not measuring man-made fields?  What if you could ignore 60Hz and harmonics of 60Hz, to only measure fields NOT related to powerlines?  Now you can.
60Hz+Harmonics Notched Frequency Response
The picture to the right shows the meter measuring the fields from a transformer, which are at powerline frequencies.  The meter shows a total field strength of 186.8 mG, but the meter ignores it for the second reading, showing just 0.7 mG from other sources:
Ignoring 60Hz Only
What if you want to measure the field strength of the power line harmonics, or accurately measure a field that is close to a harmonic of 60Hz (190Hz for example)?  The DSP-523 allows you to do this as well, by only ignoring 60Hz, but measuring everything else.
60Hz Only Notched Frequency Response
Bandpass Powerlines ▼
Bandpass Powerlines
Take measurements with a narrow bandpass filter centered at 60Hz, allowing you to accurately measure powerlines without distortion from harmonics.  Or, bandpass on 60Hz + Harmonics, which tells you the total field strength due to powerlines, including all harmonics.60Hz+Harmonics Bandpass Frequency Response
Measuring Power Line Magnetic Fields without Harmonics
Sometimes you want to see how "clean" the 60Hz sine wave from an AC powered device is. When a sine wave is pure or "clean", it will only contain the fundamental frequency (60Hz Only), but when a sine wave is "dirty" from power glitches or other faults, it will contain harmonics of the fundamental frequency (120Hz, 180Hz, etc).  Take measurements with a very narrow bandpass filter at 60Hz, and compare that to the overall unfiltered field strength.  For a clean sine wave, these measurements will be almost the same.60Hz Only Bandpass Frequency Response
Specifications ▼
Specifications
Accuracy: ±(4% + 4 digits) from 48 to 62 Hertz
Flat frequency response:

±½dB 30 to 300 Hz
-3dB 15 to 330 Hz

Range 0-250 mG (auto-ranging)
Highest resolution: 0.01 mG
True RMS Measurements
Three Axis Detector, selectable (3-Axis, X, Y, Z)
Two display styles:

On-Screen Graphing of total RMS, Notched and Bandpassed field strength
Dual readout: Compare total RMS strength plus select:
IGNORE 60Hz Only or 60Hz+Harmonics
BANDPASS 60Hz Only or 60Hz+Harmonics

Blue LED Backlight, variable brightness
Max Hold on ALL features
Update Rate: 1.6 times per second
Selectable units: milliGauss or microTesla
Runs on one 9V Alkaline battery (included)
External power jack to run unit with optional AC power adapter
Unit Weight (without battery): 7.2 oz
Unit Dimensions: 5.5" x 3.6" x 1.75"
2 Year Warranty
Made in the USA
Accessories ▼
Hard Carrying Case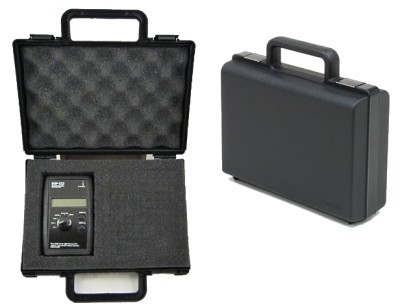 Fits up two meters comfortably, this hard case will keep your equipment protected. Case dimensions are 10.69" x 9.52" x 3.36" and features pluck-foam so you can customize it to hold any of your equipment!
Select the "With Hard Case" option below when ordering.
---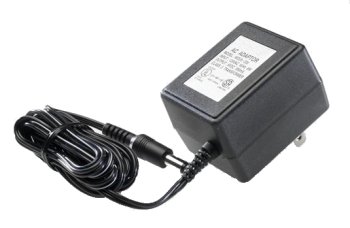 9v AC Adapter
9v Adapter allows you to power your meter from a standard (USA) power outlet, saving on battery costs.
Select the "With AC Adapter" option below when ordering.
Common Accessories Bought with This Product: